L'expression positive à travers les lunettes !!

Coexist Eyewear est une collection de lunettes  uniques classiques ou décalées, inspirées d'œuvres d'Art, de visages et de modes de vies différents. 

La création de COEXIST EYEWEAR est motivée par les évènements politiques et démographiques actuels résurgents dans le monde. 

Les lunettes COEXIST sont celles des êtres humains libres, qui osent aimer malgré les contraintes sociales et politiques imposées par une minorité de dirigeants de notre planète Terre.

La collection est pensée d'une façon mixte, sobre simple et élégante. Faite-main en France, Coexist Eyewear Lunettes répond aux exigences des femmes et des hommes précurseurs des modes, à la recherche d'une unicité dans leur expression personnelle. Les matières de la collection sont  naturelles, douces, anti allergiques, tel que le coton et la fibre de bois.

Ses montures sont des sculptures lunetières aux formes et couleurs originales. Un reflet du monde tel que la créatrice le perçoit. Une vraie collection créative et technique éditée en permanence à contrecourant de la mode généraliste standardisée. 

Chaque monture est gravée

pour une expression positive.

The positive expression through glasses !!

Coexist Eyewear is a collection of unique classic or bold eyewear, inspired by different works of art, faces and lifestyles.

The creation of this series was motivated by the resurgence of recent political and demographic world events.  

It is a brand of eyewear for those people graced with freedom and represents a call for co-existence and peace.

The collection has been created in a simple and elegant way, the materials are all natural, anti-allergy. with a mixed design. Hand-made in France, Coexist Eyewear Glasses meets the requirements of fashion pioneers, looking for uniqueness in their personal expression.

The frames are sculptured with original shapes and colors. A reflection of the world as the designer perceives it. A true creative and technical collection permanently edited against the trend of standardized general fashion.

Each frame is engraved for a positive expression.

Carla.W.sfeir Opticienne Créatrice de Lunettes et d'Objets.

Carla.W.Sfeir Opticienne Créatrice depuis 1991, à la tête de Carla's Eyeworks à Montpellier, France. Carla est une artiste, elle dessine, crée et façonne ses montures de lunettes, tel un tailleur, un bijoutier sculpteur poussés par les lignes, les formes et les couleurs. Son talent artistique unique et sa maitrise à la perfection de son métier d'opticienne, qu'elle exerce depuis plus de 25 ans, continuent à étonner de nombreuses personnalités parisiennes et internationales, des hommes d'affaires, des gens de l'Art et des personnes en quête d'unicité n'hésitent pas à faire appel à elle pour habiller leur visage et marquer leur différence.

« La lunette est un outil d'expression personnalisé qui se doit d'appartenir et de ressembler à celle ou celui qui la porte. »

Le mot d'ordre de l'opticienne est toujours le même « LA PASSION » dit-elle. 

Carla conceptualise et  manufacture ses lunettes dans son propre atelier à Montpellier en France. 

Elle a déjà édité trois lignes de montures optiques et solaires distinctes et complémentaires, Coexist eyewear, carla's eye et carla.w.Sfeir.

Carla W. Sfeir, Optician and Eyewear Designer-Creator.

Carla W. Sfeir is Optician at the helm of 'Carla's Eyeworks' in Montpellier, the south of France. Carla is an artist who draws, creates and fashions her frames inspired by lines, shape texture and colour, in the same way that a taylor would fashion garments from cloth, or a goldsmith or jeweller works to create beautiful objects.. After practising as an optician for 25 years, Carla has mastered and perfected her profession. She never stops to enthral , given that her artistic talent is unique. She has reached and been sought after by a whole range of clients ; those involved in the arts and culture, business people, various Parisian and  international notaries, as well as individuals who are seeking unique, personalised designs. They have learned of her talents for producing distinctive, individual and singular products :

" Eyewear is a means of expressing oneself and should belong to, and be a reflection of, the person wearing it".

Carla's watchword has always been the same :"PASSION".

Carla's brands : Coexist Eyewear, Carla's Eye, Carla.w.Sfeir.
Nos Collections en Boutique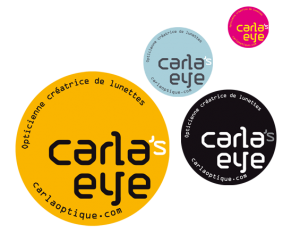 Carla sélectionne et expose dans son  showroom Carla's Eyeworks,  la crème des créateurs internationaux, ayant la même philosophie.

Sont présents dans ses lieux :

Carla selects and exhibits in her showroom Carla's Eyeworks, the cream of international designers, that share the same philosophy.

Are present in her showroom:




Les objets lunetiers que Carla édite dans ses ateliers peuvent être à la carte en sur-mesure, évolutives l'Opticienne les adapte au cas par cas, selon les visages et les envies de couleurs. Les collections sont intemporelles.

Faites-main à Montpellier, elles possèdent de très belles finitions haut de gamme, anti – allergéniques, les montures de lunettes Coexist Eyewear  sont façonnées pour toutes les morphologies simples ou complexes, offrant des couleurs variées, allant de l'écaille traditionnelle à une palette de choix étonnante. Des lunettes faites pour vous en France, dont le matériau de base demeurera encore et toujours le même : La Passion de la Création et de l'Optique !

Références adeptes du travail de L'Opticienne : Jean Pierre Coffe, Lenny Kravitz, Lio, Caroline Loeb, Mathieu Chedid, Gail Ann Dorsey, Emilie Simon, Bernard Sauvaire, The Young Professionnals, Gilles Peterson, Jean Vallon …

The glasses that Carla publishes in her workshops can be tailor-made, custom, and scalable.

The Optician adapts them on a case-by-case basis, according to faces and color preferences. The collections are timeless.

Handmade in Montpellier, they have very beautiful high-end, anti-allergenic finishes, Coexist Eyewear spectacle frames are shaped for all simple or complex morphologies, offering varied colors, ranging from traditional tortoise shell to a palette of an amazing choice. Carla's Glasses are made for you, in France.

The basic material that Carla uses will always remain the same:

The Passion for Creation and Optics!

References adept at the work of the optician : Jean Pierre Coffe, Lenny Kravitz, Lio, Caroline Loeb, Mathieu Chedid, Gail Ann Dorsey, Emilie Simon, Bernard Sauvaire, The Young Professionnals, Gilles Peterson, Jean Vallon …